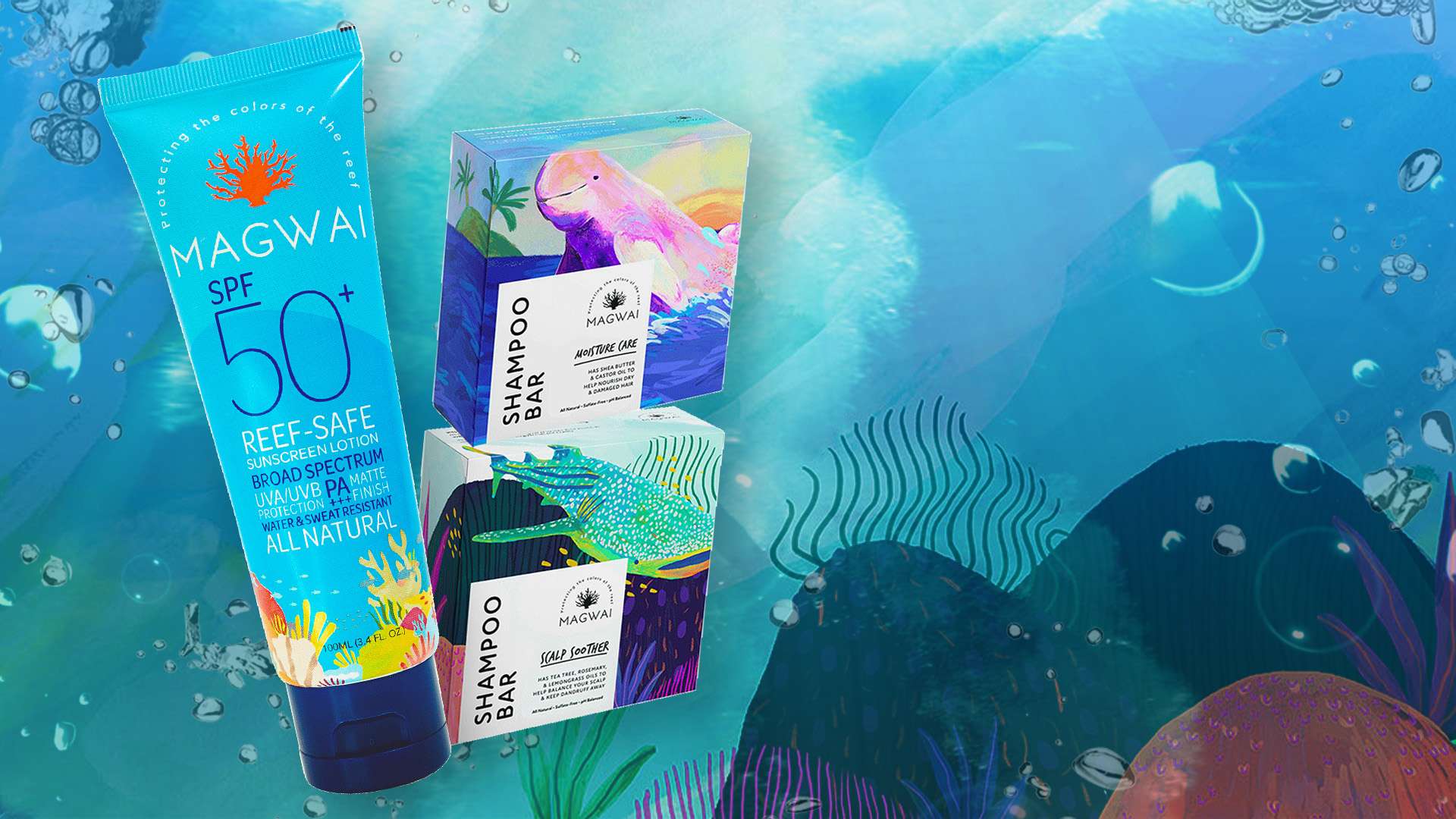 POSTED May 02, 2023 - 03:30 PM
This Philippine brand helps save the ocean by making marine-friendly products
Philippine brand Magwai has been promoting the shift towards sustainability since its inception in 2016
By Daniel Asido
Many ocean conservation efforts have focused mainly on proper waste management, particularly reducing plastic. However, pollution can also be seen as an invisible dilemma, with its indirect causes—chiefly from human activities—vaguely receiving as much attention and awareness.
In the case of beauty and skin care products like sunscreens, shampoos, and soaps, while they certainly have their uses, they can actually be equally harmful. Many of these products contain chemicals like oxybenzone and octinoxate that end up in the ocean and are toxic to coral reefs.
According to the National Oceanic and Atmospheric Administration, these harmful chemicals are found in around 3,500 skincare products worldwide. They contain properties that can cause DNA damage, abnormal skeleton growth, bleaching, and gross deformities of baby corals.
Rising to the challenge of providing better personal care products that do not cause water pollution, Philippine brand Magwai has been promoting the shift towards sustainability since its inception in 2016.
Czar Carbonel, Magwai chief executive officer and co-founder, said she was inspired to start the company with her friend Maffy Tamayo after reading that chemical-based sunscreens are toxic to marine life and reef-safe ones are not readily available in the country.
She then made a leap of faith and left her corporate advertising job to team up with Tamayo seven years ago to start the company with the aim of revolutionizing the sunscreen industry for both local and international markets.
"We decided to start MAGWAI to develop reef-safe sunscreen here locally to make it more accessible to Filipinos and tourists… We aim to develop more products that are committed to both sustainability and great product experience." Carbonel said.
The brand makes reef-safe sunscreens, shampoo bars, and multi-purpose towels that are not only effective, eco-friendly, and affordable, but also aim to offset chemical and plastic pollution in the oceans and landfills.
The brand's best-sellers are its sunscreens and shampoo bars which have been certified to meet the standards of the Food and Drug Administration and the European Chemicals Agency. The prices of Magwai's products range from P91 to P1,000, from gift boxes, sunscreens, soaps, and towels, according to its website.
"We are committed to innovating in sustainability. Thus we are always on the lookout for new processes that can further improve our positive impact on the environment, throughout our full value chain," Carbonel also said, noting that Magwai has also partnered with the University of the Philippines Marine Science Institute to validate the effectiveness of their products further.
Marine conservation efforts are also crucial for the Philippines as around 5,000 metric tons of sunscreens that are harmful to corals are washed off annually worldwide, based on the data stated by Human Nature Co-Founder and President Anna MelotoWilk.
Part of these sunscreens have an effect on around 22.5-square kilometers of coral reefs in the Philippines as the country is home to 32 percent of the Coral Triangle, the heart of the world's marine biodiversity where 60 percent of the live corals in that area are vulnerable to the harmful chemicals.
The change that Magwai is proposing is something that aims to set a trend and introduce to the global green technology and sustainability market, which is valued at $11.49 billion in 2021 and is expected to grow to $51.9 billion in 2029 according to Fortune Business Insight.
As of February 2023, Magwai has sold 30,000 shampoo bars—equivalent to reducing 105,000 100mL plastic shampoo bottles that would have ended up in landfills and oceans.
They are also venturing international expansion to other Southeast Asian nations like Indonesia, Thailand, and Vietnam and have partnered with Pure Oceans, Precious Plastics, and 1% for the Planet to support other commitments to grassroots sustainability as well.
To check the products of Magwai, visit https://www.magwai.com.ph/ or https://www.instagram.com/magwaiph/.